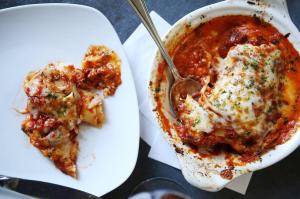 The Story Behind One of Our Best Sellers, Miss Grace's Lasagna
May 31, 2017
If you've ever ordered Miss Grace's Lasagna at your favorite Baton Rouge Portobello's location, you know it's something special. With layers of cheese and meat and a specialty sauce, it's a delicious treat for any Baton Rouge Italian food lover. But, did you know that there's a unique story behind this dish?
You see, Portobello's Grill Founder and Owner, Kiva, grew up around the restaurant industry.
His father was General Manager of the Village Restaurant, working alongside Owner Mrs. Fannie, for twenty years throughout Kiva's youth. In fact, Kiva's father began working with Ms. Fannie after her husband passed away. From 1968 to 1988, Kiva's dad spent his days in the prep kitchen with Ms. Fannie and his evenings in the dining room, running the show. Kiva and his family lived in a house on the restaurant's property, so Kiva spent his entire childhood around the kitchen with his dad and Ms. Fannie, hence his love and passion for the restaurant industry.
Kiva's father took a short break from the restaurant industry to start a new business, but couldn't stay away from the kitchen for long. In 1990, he opened Kiva's Restaurant, named after his son and the future Portobello's Grill Owner. Kiva's Restaurant is where Kiva first started working full time in the kitchen. Years later, Kiva saw an opportunity for a more casual version of what the family was doing at Kiva's Restaurant. In 1996, Kiva's father helped him open up his own concept - Portobello's Italian Grill & Cafe, which, over the past twenty years, has morphed into the Baton Rouge favorite that it is today.
While there are several delicious items on the Portobello's Grill menu, Miss Grace's Lasagna is one of the restaurant's best selling items. And it's actually a spinoff of the Village Restaurant lasagna that Kiva grew up loving! One of the biggest differences between the Village Restaurant's lasagna and Portobello's Grill's version is that Kiva's eldest daughter, Grace, really enjoyed Italian sausage and shredded pork as well as the ground beef in the bolognese that it is layered with. Hence the name Miss Grace's lasagna. The special ingredient that gives this dish a kick is lots of red wine in the bolognese sauce that is used in it! The process of creating the lasagna is long, but well worth the outcome. It has a total of 9 layers of pasta, bolognese and 5 cheeses (Ricotta, Parmigiana, Romano, Mozzarella, and Provolone). For adults, the Miss Grace's Lasagna pairs well with Sangiovese and Ruffino IL Ducale. For kids, a good ole Shirley Temple or Roy Rogers adds a grown up feel to the overall experience.
Are you a Baton Rouge Italian food lover who's yet to try Miss Grace's Lasagna? If so, you're really missing out. Head on over to your favorite Portobello's Grill location soon to delve into this delectable dish. We promise, you won't be disappointed!