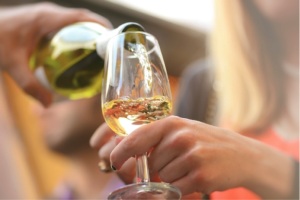 Portobello's Wines - The Whites
Jul 3, 2017
You don't have to be a sommelier to know how to enjoy a great glass of white wine in Baton Rouge. At Portobello's Grill, we have an amazing selection of white wines that pair well with our pasta, chicken and seafood dishes - not to mention our desserts! Read on to learn more about our white wine offerings in our Greater Baton Rouge restaurant locations.
MUMM NAPA -
If you're a fan of sparking wine, then you'll love Mumm Napa. In fact, you'll feel as though you've been transported to the hills of Napa Valley yourself! From the Northern California winery, this brut sparkling wine actually traces its roots back to GH Mumm, the leading international champagne brand in France. Founded in the US in the 1970s, this winery strongly follows its French roots, bringing a sparkling wine to Baton Rouge that is certain to please.
COMPLICATED -
Complicated Chardonnay comes from Taken Wine Company located on California's Sonoma coast. As Wine Magazine described it, it is "Complex and interesting on the palate, it's layered with tension and acidity. It has a lean, clean finish that's dialed-in for the table."
CLOS PEGASE -
This chardonnay, hailing from one of Napa Valley's "must visit" wineries, is a special treat for Baton Rouge wine connoisseurs. Described as both "intriguing" and "complex," this 100% chardonnay pairs perfectly with our seafood dishes.
FRANCISCAN ESTATE -
This white blend hails from a forty year old Napa Valley winery, which "strives to create wines of the highest character and excellence in every vintage." As a Baton Rouge wine lover, it's a can't miss!
LIBERATED -
The sauvignon blanc from this Sonoma County wine comes in three sassy labels - Sophisticate, Free Spirit and Inventor. You may want to order an entire bottle just to enjoy the labels' artwork!
BASTIANICH -
Hailing from Italy, this pinot grigio is described as "the perennial favorite, with mature apple and pear flavors...lovely richness and roundness on the palate." Get a wonderful taste of Italy with Portobello's Grill's great food and this delicious wine, without ever leaving Baton Rouge.
NINE VINES -
From the South of Australia, this moscato is "crisp and fresh, bursting with grapey flavors" and "perfect as an aperitif, or to accompany a dessert."
MONTEVINA -
Nestled behind the foothills of California's Sierra Nevada mountains in Amador County, this white zinfandel is described as having "pretty aromas of wild berries and honeydew melon" and offering "delicately sweet flavors of ripe strawberries, juicy peaches and watermelon, balanced by bright, refreshing acidity."
So, which glass of white wine will you try first? We'd love to have you visit us in Baton Rouge and let us know! And as always, if you have any questions about pairing a wine with your favorite Portobello's Grill dish, just ask your server. After all, we're here to help!