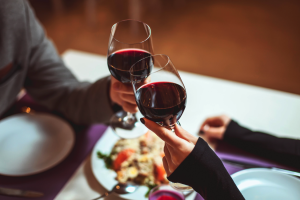 Portobello's Wines - The Reds
Jul 15, 2017
Whether you simply love to unwind at the end of the day to a glass of red wine, or pair a glass with one of our meat or tomato-based pasta dishes for dinner, Portobello's Grill in Baton Rouge and Plaquemine has several options from which to choose. Our unique selections of pinot noir, red blends, merlot and cabernet sauvignon will make any wine lover ask for more! Read on to learn a little more about our red wine offerings.
Rainstorm
- Coming from the Willamette and Umpqua Valleys in Oregon, this pinot noir is a special treat! Crafted from grapes from Northern Oregon that produce an earthy flavor, and mixed 50% with grapes from Southern Oregon that provide a ripe, rich fruit flavor, this red is the best of both worlds that Oregon has to offer.
LWC, Clos Pepe
- This Loring Wine Company pinot noir comes from the Clos Pepe Vineyard of the Santa Rita Hills of Southern California. It's website says, "According to Wes Hagen at Clos Pepe, the area of the vineyard where our 667 clone come from is 'steep and chunky and makes Pinot freaks like you and me salivate.'"
E3, Locations
- This Spanish red blend from the Iberian Peninsula hails from very fertile land. With fruit from Priorat, Jumilla, Toro, Rioja, and Ribera del Duero, this blend offers the best of Mediterranean and European continental flavors.
Trios Proprietary
- This California red blend is a mix of cabernet sauvignon and cab franc. With cherry and raspberry fruits and hints of graphite, lemon zest and vanilla, this unique Sonoma Valley red blend is certain to please.
Seven Falls
- Who's ready for some merlot? Seven Falls offers a complex and layered taste with cherry, blackberry and herbs. According to its maker Seven Falls Cellars, it pairs best with hearty pastas and steak. Why not try a glass with our Pure Cut Ribeye or Miss Grace's Lasagna?
Benzinger
- From the Benzinger Family Winery in biodynamically farmed Sonoma Mountain Estate, this cabernet sauvignon is described as "full bodied and 'jammy'" by Four El Magazine.
B.R. Cohn
- This Sonoma Valley favorite is sustainably farmed and produced of the finest grapes that Olive Hill Estates has to offer. Described as a "masculine cabernet sauvignon," it includes "black fruit, cassis and espresso with dark earthy undertones of forest floor and briar."
Are you ready to for us to pour you a glass of red? Visit us at any time, or better yet, during Happy Hour at our Baton Rouge and Plaquemine Portobello's Grill locations on Monday - Thursday from 3:00pm to 6:30pm or Friday from 11:00am to 6:30pm for ½ price wine by the glass. Visit us every week and you'll quickly make it through our list of reds and discover which is your favorite!